Skinny jeans and leggings have become very popular, and stores like Newport News and Gap.com carry them in various colors, designs and materials. You might have picked up a pair and are now wondering how you wear them; below are some ideas on how to pair
skinny jeans and leggings
with some stylish and flattering outfits.
Skinny jeans are pants that are tapered to fit snuggly around your legs and usually are tight fitting around the ankles. There are some that have some stretching capabilities, but most are very form fitting. Leggings are like tights; they can be purchased in a variety of materials and they are very form fitting (and usually end at the calf or the ankle). A good rule of thumb is to not wear your leggings as pants; they are an accessory and should be worn as such. If you do wear leggings, you should have your behind covered; stick to long tunics, sweaters, shirts or jackets.
1. Long Cardigan and Skinny Jeans or Leggings
When you are wearing a long sweater, such as a cardigan, you can pair it up with either leggings or skinny jeans and create a stylish look. Black is a slimming color for the leggings or skinny jeans; wear a similar colored top and black high heels for a sophisticated look.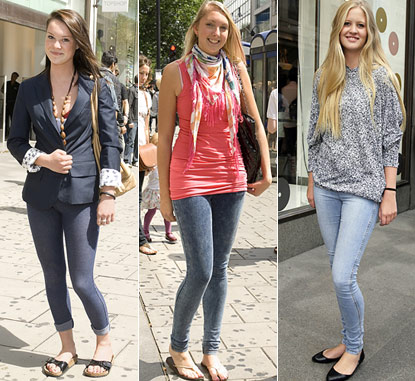 2. Boyfriend Jacket and Leggings
The oversized jacket makes a great pairing for your leggings, as long as the jacket comes down past your buttocks. You can wear a sexy blouse or colorful sweater under the jacket, but keep the leggings a neutral color that is close to the color of the jacket and your shoes.
3. Short Dress and Leggings
When a short dress is worn with leggings; this does not mean a micro mini, you don't want to look as if you forgot to wear pants. You can pair this outfit up with flats or heels and look casual and cool.
4. Mini Skirt and Boots
When you want to sport that mini skirt you just bought; think about adding a pair of high boots and leggings. You can pair up a cute top--one that has some flow to it--with the mini skirt and leggings for a cute and stylish look. Make sure your boots are at least to the knees if not above them to ensure the outfit is pulled together correctly.
5. Skinny Jeans and a Jacket
Skinny jeans look great with a jacket or blazer. You can enjoy having the super skinny legs while creating a low neck line with the blouse under the jacket to draw attention to your natural curves. You can wear the outfit with any style boot or heel and even flats if you are going for a casual look. Be sure you never wear bulky tennis shoes with skinny jeans or leggings. By:
Monette Hodge